Principal Investigator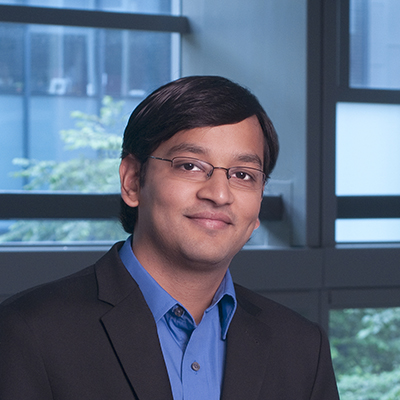 Amish J. Patel
Associate Professor
Department of Chemical and Biomolecular Engineering
Office: Room 529, 3401 Walnut St (PICS SUITE)

Email Personal Page
orcid.org/0000-0001-6482-543X

Ph.D. Chemical Engineering, University of California Berkeley, 2007
B.Tech. Chemical Engineering, Indian Institute of Technology Bombay, 2001
Postdoctoral Fellows
Nicholas Rego

Email Personal Page

Ph.D. Biochemistry and Molecular Biophysics, Perelman School of Medicine, University of Pennsylvania, 2020
Research interests: Protein hydration and intermolecular interactions, machine learning
PhD Students
Zachariah Vicars

Email Personal Page orcid.org/0000-0002-7730-3849
REACT Fellow
B.S., Chemical Engineering, University of Tennessee, 2017
Research interests: Surface nanotexture

Lilia Escobedo

Email
NSF Graduate Research Fellow
B.S. Chemical Engineering, Cornell University, 2019
Research interests: Non-fouling surfaces, superhydrophilicity, protein-water interactions

Jun Lu

Email

B.S. Chemical Engineering, University of California Santa Barbara, 2019
Research interests: Statistics of ion solvation, enhanced sampling

Akash Pallath

Email Personal Page Personal website

B.Tech. Chemical Engineering, Indian Institute of Technology Gandhinagar, 2019
Research interests: Protein and polymer conformational transitions, enhanced sampling, machine learning

Lizhu Zhang

Email

B.S. Chemistry, Nankai University, 2017
Research interests: Protein hydration, enhanced sampling, machine learning


Jeongmoon Choi

Email

B.S. Chemical Engineering, Yonsei University, 2020
Research interests: Clathrates, antifreeze proteins

Alexander Johnson

Email

B.S. Chemical Engineering, Rowan University, 2018
Research interests: Bijels

Lily Wang

Email

B.S. Chemical Engineering, Carnegie Mellon University, 2022
Research interests: Liquid crystals, molecular simulations

Ahmad Ali

Email

M.S. Chemical Engineering, Carnegie Mellon University, 2023
B.S. Chemical Engineering, Kuwait University, 2020
Research interests: Water desalination, simulation

Mian Qin

Email

B.S. Physics, Peking University, 2023
Research interests: Machine learning

Rahul Ramaraju

Email

B.S. Chemical Engineering, Louisiana State University, 2023
Research interests: Protein modeling, machine learning
Master's Students
Aayush Bendre

Email

B.Tech. Chemical Engineering, Vishwakarma Institute of Technology, Savitribai Phule Pune University, 2018
Research interests: Ice recrystallization inhibition, molecular dynamics

Charles (Guanghua) Hao

Email

B.S. Biological Chemistry and B.A. Chemistry, The University of Chicago, 2023
Research interests: Protein hydration, molecular dynamics
---
Alumni
Postdoctoral Fellows
Aniket Thosar, 2019-2022, Started working at Reliance in Mumbai, India.
Hao Jiang, 2018-2020, Started working as a Senior Associate Chemist at SC Johnson in Racine, WI.
Debdas Dhabal, 2017-2020, Started a postdoc in the Molinero group at the University of Utah. Current position: Assistant Professor at Indian Institute of Technology Guwahati. Group website
Saeed Najafi, 2017-2019, Started a postdoc in the Fredrickson group at UCSB.
Richard Remsing, 2013-2015, Started a postdoc in the Klein group at Temple University. Current position: Assistant Professor at Rutgers University. Group website
PhD Students
Sean Marks, 2015-2021


DOE Computational Science Graduate Fellow


Dissertation: "Exploring The Molecular Origins Of Icephilicity Using Specialized Molecular Simulations"
Nicholas Rego, 2014-2020, Continued as a postdoc in the Patel group.
Dissertation: "Characterizing And Predicting Hydrophobicity At The Nanoscale To Inform Protein Interactions"
Zhitong Jiang, 2014-2019
Suruchi Fialoke, 2012-2017, Started working at Pfizer in Boston, MA.
Dissertation: "Understanding Dewetting Transitions On Nanotextured Surfaces: Implications For Designing Surfaces With Improved Wettability"
Erte Xi, 2012-2017, Started working at Procter and Gamble in Cincinnati, OH.
Dissertation: "Developing A Novel Computational Framework To Predict Protein Interactions, Hot-Spots And Binding Affinities"
Masters Students
Jimin Yoon, 2021
Kevin Juan, 2021
Roopal Bhatnagar, 2019
Unnati Joshi, 2019
Sharmilapriya Mohanasundaram, 2017
Guoda Liang, 2016
Ramalingam Kailasham, 2015
Undergraduate Students
Quinn Gallagher, 2022
Dakota Wallach, 2020
Connor Gallagher, 2020
Matthew Kim, 2020
Zachary Varley, 2019
Sangjae Park, 2015
Phillip Taylor, 2015
Visiting Students
Omar Jiminez Negron, 2018, REU Intern from UPR Mayaguez
Tristan Lugan, 2017, French REACT Intern
Anurag Jhaver, 2015, Undergraduate from IIT Guwahati
Siddhansh Arora, 2013, Undergraduate from IIT Kanpur